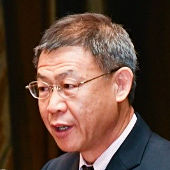 Yuan Derun
SENIOR PROGRAMME OFFICER
Sustainable Farming System Programme
Education and Training Programme
Network of Aquaculture Centres in Asia-Pacific
Dr Yuan Derun is a senior program officer at the Network of Aquaculture Centres in Asia-Pacific (NACA), an intergovernmental organization for sustainable aquaculture development. He is managing two working programmes of NACA: (1) Sustainable Farming Systems – a programme to facilitate sustainable aquaculture development in Asia-Pacific through promoting collaborative research, technology development, and farming innovations; (2) Education and Training Programme – a programme for regional capacity building, knowledge networking, and institutional collaboration in aquaculture and fisheries education and training. He is also a visiting professor at Shanghai Ocean University.
His professional work focuses on development and promotion of environmentally benign and ecologically efficient aquaculture technologies, improvement of aquaculture value chains, facilitation of aquaculture trade, promotion of good aquaculture practices and certification, small scale farmer empowerment, policy formation and institutional support.
Much of his work experience was also related to education and training in the fields of aquaculture, aquatic resource management and aquaculture business management, with a focus on warm water species fed on low trophic level of food chains or species of commercial importance to the region, including tilapia, carps, clarias catfish, pangasius, groupers, seabass, marine shrimp and giant freshwater prawn.