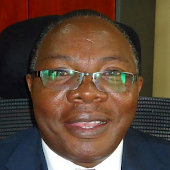 Charles Ngugi
DEAN
School of Natural Resources and Environmental Studies
Karatina University, Kenya
Professor Charles Ngugi holds a PhD in Fish Biology and Aquaculture. He has extensive work experience (over 38 years) in the fields of aquaculture research, academia and leadership. He served as Fisheries Secretary for the Kenyan Ministry of Agriculture, Livestock and Fisheries Development and worked for 18 years as a consultant with USAID and FAO, among others.
In 2018, Professor Ngugi received the International Award for Scientific Excellence by the Board for International Food and Agricultural Development, while in 2012 he was awarded The Elder of the Order of Burning Spear by the President of the Republic of Kenya for his outstanding and distinguished services to the Nation. Professor Ngugi has published over 50 peer-reviewed articles in international journals and 60 technical reports, books and book chapters.
Recent research projects include a position as Principal Investigator for the Aquaculture and Fisheries Collaborative Research Programme (AquaFish Innovation Lab). Professor Ngugi has attended several international conferences on aquaculture, including FAO's side meeting with the committee of experts at the Sustainable Blue Economy, World Aquaculture Society AQUA 2018 in Montpelier, France, and Aquaculture America 2018 in Las Vegas, US. Professor Ngugi is member of the World Aquaculture Society and Aquaculture Association of South Africa.