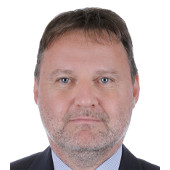 Lionel Dabbadie
SENIOR FISHERIES AND AQUACULTURE OFFICER
Food and Agriculture Organization of the United Nations
Dr Lionel Dabbadie is the FAO Senior Aquaculture and Fishery Officer for the Gulf Cooperation Council (GCC) States and Yemen sub-region. He has an extensive experience on aquaculture development, water quality and pond management, value-chains, quality and food safety standards.
His professional experience has been gained over nearly 30 years, mostly as a scientist for French Center for International Cooperation on Agricultural Research for Development (Cirad). He has an International experience, with long term residence in Ivory Coast, Brazil, Philippines, Thailand, Madagascar, Italy, United Arab Emirates and France. He also conducted many short-term consultancies and studies in Guinea, Morocco, Oman, Tunisia, Myanmar, Viet Nam, USA, United Kingdom, Belgium and France.
His most recent expertise and consultancies include a long-term FAO consultancy as Senior Aquaculture Consultant in FAO headquarters, an expert meeting on small scale aquaculture, a collective work on poverty alleviation for the 2010 Global Conference on Aquaculture (Phuket, 2010), several activities on the future of the Mediterranean fisheries, as well as several activities on quality management, food safety and traceability (Philippines, Morocco), Integrated Multi-trophic Aquaculture (Oman), wastes and losses or on curriculum development (Huambo University, Angola).
He has published over 50 scientific and technical publications, translated two aquaculture books into English, and produced an e-learning course (https://uved-formation-aquaculture.cirad.fr). He is also an Associate Editor of the Journal of the World Aquaculture Society and a Distinguished Adjunct Faculty at the Asian Institute of Technology (Thailand). Since his involvement in the SARNISSA project, he has also become a key-reference person on aquaculture and fisheries on social media.