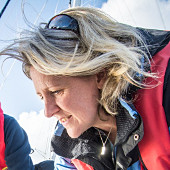 Elizabeth Cottier-Cook
PROFESSOR OF MARINE BIOLOGY
University of the Highlands and Islands and Scottish Association for Marine Science, Scotland
Elizabeth Cottier-Cook is a Professor in Marine Biology at the University of the Highlands and Islands, based at the Scottish Association for Marine Science (SAMS), Fellow of the Royal Society of Biology (FRSB), Head of the SAMS/ United Nations University (UNU) Associate Institute, Principle Investigator for Global SeaweedSTAR, an international Global Challenge Research Fund programme, and Programme Leader for the Erasmus Mundus Joint Master Degree in Aquaculture, Environment and Society (EMJMD ACES; www.emm-aces.org).
She has published over 68 peer-reviewed papers, including a book and 7 book chapters on a variety of topics ranging from global seaweed aquaculture industry, environmental impacts of aquaculture to marine invasive species and biosecurity.
She is currently the lead scientist on a new £6 million RCUK GCRF Global SeaweedSTAR programme working with partners in the UK (including Natural History Museum, Cefas and the Overseas Development Institute) and overseas, including Indonesia, Philippines and Tanzania, FAO, South Pacific Communities and UNU Institute for Water, Environment and Health. She has recently also led the development of biosecurity guidance for marine invasive non-native species, which in now being used by environment agencies across the UK and has worked in collaboration with colleagues in China, Canada, Chile, New Zealand, USA and numerous countries in the Mediterranean.