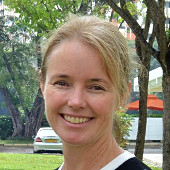 Jennifer Cobcroft
ASSOCIATE PROFESSOR
James Cook University, Australia
Associate Professor Jennifer Cobcroft joined James Cook University (JCU) in February 2019 to lead the Northern Australia Aquaculture industry situational analysis project, funded by the CRC for Developing Northern Australia. She was previously based at JCU Singapore to establish the aquaculture teaching and research program (2017-2019). She has consulted in the strategic planning of emerging aquaculture research opportunities in Australia and internationally.
Jennifer was an Aquaculture without Frontiers volunteer in Myanmar, and has engaged in other southeast Asian countries, as well as USA, Mexico, Kenya, Tanzania, Europe, and New Zealand. She was Program Co-Chair of World Aquaculture Adelaide 2014, Secretary of the World Aquaculture Society (WAS) 2016-2018, and a former Board member of the Asian Pacific Chapter of WAS.
Jennifer's focus is marine fish hatcheries, with prior research through the University of Tasmania with industry partners (1997-2015). Her work has focused on hatchery production of difficult-to-rear species, including developmental biology, feeding, fish health and system design.
Her B.Sc. was awarded by the University of New England (1996), B.App.Sci (Hons) (1997) and PhD (2002) by the University of Tasmania, Australia. She is committed to research, and the communication of science and technology, that supports the sustainable and profitable growth of aquaculture globally.