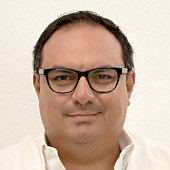 Giovanni Fiore Amaral
DEPUTY DIRECTOR

National Aquaculture Ordinance, National Commission of Aquaculture and Fisheries, Mexico
Giovanni Fiore Amaral is the Deputy Director of the National Aquaculture Ordinance of Mexico of the National Commission of Aquaculture and Fisheries. His education includes a BSc. in Biochemical Engineer (2000 – 2004) and an MSc. Environmental Management (2007 – 2009).
His experience includes the development of molecular markers for genetic improvement in aquaculture, biotechnology, environmental assessment, bioeconomy, sustainable development indicators, development of national public policies in aquaculture and coastal management.
Since 2010, he has been heading federal programs for development and research in aquaculture, public policies in aquaculture and fisheries, aquaculture licenses in federal waters, intergovernmental cooperation in aquaculture, international cooperation in aquaculture, creator of national aquaculture ordinance systems recognized by the UNIDO, World Bank, IATTC and FAO at the National Commission of Aquaculture and Fisheries.
He has actively collaborated FAO aquaculture branch since 2013, including acting as the national focal point for the State of the World's Aquatic Genetic Resources for Food and Agriculture, supporting work on aquaculture zoning, site selection and area management under the ecosystem approach to aquaculture, as a member of the Expert Consultation on Development of Sustainable Aquaculture Guidelines, and as the national delegate of the FAO Sub-Committee on Aquaculture.